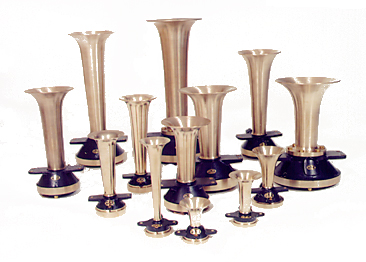 The sound heard around the world.
Cunningham Whistles are solid bronze castings machined to a fine finish and manufactured in five diaphragm sizes. Each increase in diaphragm size gives lower pitch and greater intensity of sound. The varying lengths within each diaphragm size provide different tones. The shortest horn gives the higher, natural sound while the long horn produces the deeper tone.
All whistle models operate over a range of 40 to 140 p.s.i. If necessary, simple adjustments can be made at installation for best tone. The sizes 1 and 2 Whistles, with an optional, thinner diaphragm can be adjusted at the factory to operate on CO2 bottles. (The bottle, available from many marinas, should be equipped with pressure regulator and gauges. A solenoid valve is recommended and can be purchased with the Whistle.
Most Whistle sizes can also be had in marine-grade aluminum which is lighter weight. Allow longer lead time for aluminum.
Whistles are warranted to be free from defects in materials and workmanship for one year from date of purchase.